VIDEO: "Disrupting ISIS recruitment online" (Brookings Institution)
Weiterführende Links: The Redirekt Method (Offizielle Website) What tech companies can do to counter violent extremism (The Brooking Institution, Dana
Read more.

Begriffe: "Dschihadismus"
Als Bezeichnung für Gruppen und Individuen im sunnitischen Islam, die eine Veränderung von Gesellschaft, Staat, Politik und Kultur unter explizitem
Read more.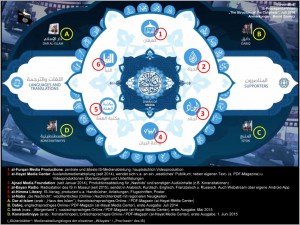 Zentrale Medienstellen des IS nach dessen eigenen Angaben
Anfang Juli 2016 veröffentlichte der "Islamische Staat" ein Video mit dem Titel "The Structure of the Caliphate". Der rund fünfzehnminütige Film liefert
Read more.